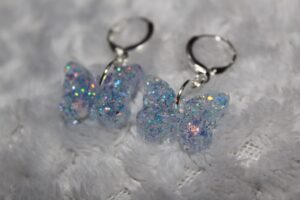 As part of their Creative Enterprise Level 4 Diploma course, 14 HSDC students have spent the past two months creating their first collection of, amongst other things, illustrations, jewellery and clothing. With help from course lecturers, two of the students, Lottie Doyle and Emily Collins, have already launched their own online jewellery companies.
Emily makes all of her jewellery from epoxy resin: "I make earrings and necklaces for anyone at any age or gender. I wanted to start this business as I realised there weren't many handmade jewellery companies that sold jewellery at affordable prices. I have designed and made all of my packaging myself and I have also set up my own website where I have started selling my products.
"I am so happy that I have been able to have this opportunity as I never thought that this would be possible. After starting to sell my products a week ago I have already received some orders which I am so pleased about." Emily's jewellery can be found on Instagram (@glitterandgoldbyem) and at https://glitterandgold.co.uk.
Lottie, who studied for the Photography & Graphic Design Level 3 Diploma last year, saw the Creative Enterprise course as a natural progression in starting her own business: "The support and encouragement I received on the Photography course gave me the confidence to set up my own business and I knew that the Creative Enterprise course was the perfect opportunity to do just that. I started my business to create handmade, original and affordable jewellery made from polymer clay.
"I soon discovered my interest in jewellery making was more than just a phase. I now love it more than ever and spend hours trying out new designs and styles. I'm so grateful for the support I've received on the course from my teachers and classmates. I launched my Etsy shop on 24th September and was blown away by the response: I sold 25 items within the first 24 hours! I wouldn't have been able to do this without the support of my family and the help from my teachers and facilities at the College. They've helped me to produce my packaging, from stickers to earring cards and establish my business." Lottie's jewellery can be found on Instagram (@thehoneycove_) and https://www.etsy.com/uk/shop/TheHoneyCoveStudio.
Creative Enterprise Course Manager Paul Parsons commented, "Artists like Emily and Lottie are exactly the reason this course is growing from year to year. It helps people turn their art passion into a business by giving the artist the freedom to start a business and create products of their own. We have turned the traditional classroom into a studio and offer a variety of workshops from screen printing to Adobe digital design skills or even how to run your company.
"It's really important to have industry skills. Getting good grades is, of course, important, but establishing something which is tangible and can actually earn a living is just as important. It's an incredible feeling for students to get positive public feedback and even better to achieve what Emily and Lottie have done by creating their successful online businesses."
This year's cohort will have the opportunity to publicly showcase their work at the ever growing We Create, Portsmouth art market in the old Debenhams building on Palmerston Road, Portsmouth. The students will be running a stall there on 12 and 13 December, 10am-4pm.